JIMMY Z's QUICK HITS™
Collect 'em, trade 'em, pass 'em around!
Bay Area bridge bites Rosie in the ass
What was it Rosie said? Oh yeah - she said mockingly that the World Trade Center building collapse was the "first time fire has melted steel." Her intent was to proclaim that steel is not melted by fire. Sure it is. More importantly though, steel is weakened by fire, and that's what led to the collapse of the World Trade Center.
But now, after this happened in the bay area, our girl Rosie has been very quiet.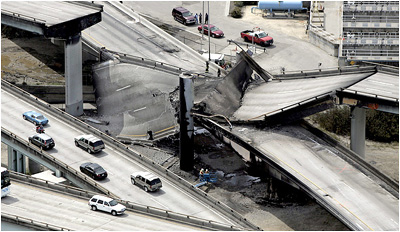 Very, very quiet indeed.
Just like all leftwing moonbats, she will not be admitting how stupid she was.